LIVING LIGHT
Desert Trax / Merkaba / Liquid Sound Design / Sphere Pop
Breaking the mould and challenging the status quo have become some of the defining traits of Eartha Harris's extensive electronic music career. Known for her production work as Living Light as well for her self-titled DJ project Eartha Harris, she has been a multi-faceted presence in the American electronic music scene for over two decades, spanning genres and subcultures and touring extensively as both a solo artist and a live band keyboardist. Incorporating elements of psychedelic dub, global bass, downtempo, and mid tempo electronica, her styling has connected with audiences across the musical spectrum while showcasing her tenacity for experimentation amidst the endlessly changing seasons of global electronic music. 
Harris had an early start to her professional music career while producing and touring with various electronic acts as a college teen. This was followed by years of solo production under the name Project Sphere until she joined the live electronic band Psylab as their lead keyboardist in the mid 2000s. She eventually returned to self-production in 2013 with her new downtempo dub project, Living Light, which quickly sparked international interest and lead her into the colorful landscapes of the global festival community. 
With appearances on some of the world's most esteemed psychedelic labels, including Desert Tax, Merkaba Music, Sofa Beats, and Liquid Sound Design, Harris continues to evolve the Living Light sound while also exploring new modalities in her uptempo side project, Eartha Harris. Drawing influence from deep house, progressive trance, and dub techno, yet pushing their boundaries in a quest for new, original styles, Harris reveals a new side of herself as a lover of dance music and global DJ culture in this project while still maintaining the Living Light as a separate, but very much still active and influential, sound.
Together, Living Light and Eartha Harris coalesce to create a sonically unique and evolving musical force that continues to garner attention from both domestic and international musical audiences. Having graced the stages of events such as Envision Festival (Costa Rica), Cosmic Convergence (Guatemala), Tribal Gathering (Panama), Psy-Fi (Netherlands), Eclipse Festival (Canada), Sonic Bloom (CO), Oregon Eclipse (OR), Burning Man (NV), and Arise (CO), and countless club stages across the United States, Harris has developed a sound that transcends any singular locale and which offers listeners a truly global experience regardless of the ground on which they stand.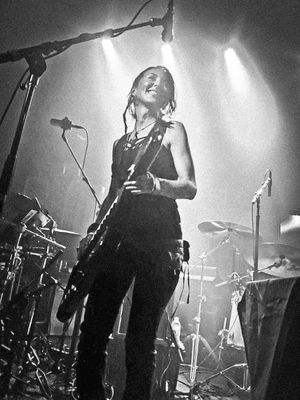 "

Make sure you keep your eyes pealed for this one as her magical and transcendent vibes will embark a transformation within you! "
— Afro Monk